Marcus Murrell, General Manager for Rocky Mount Event Center, is responsible for managing all aspects of the facility's pre- and post-opening operations. Previously he served as Operations Director for the Columbia Metropolitan Convention Center, where he managed the events team in the planning and implementation of all events, maintained inventory, and oversaw all service management agreements with outside vendors.  Murrell's enthusiasm for the events industry sparked in 1999, and he now brings 18 years of experience to the events industry and to this state-of-the-art facility. 
As a proud member of Phi Beta Sigma Fraternity, Murrell graduated from Winston Salem State University with a Bachelor's degree in Sports Management. He is also a graduate of the International Association of Venue Management. Outside of work Murrell enjoys traveling, spending time with family and friends, and riding motorcycles.
Ashley Pittman is the Marketing Manager for Rocky Mount Event Center, where she is responsible for community outreach and business development, as well as marketing the facility locally, regionally, and nationally through various media outlets. Before accepting the position with Rocky Mount Event Center, Pittman served as the Marketing Director for Golden East Crossing Mall, where she was responsible for creating and implementing marketing processes while also generating revenue through sales of in-mall advertisement. Pittman brings nine (9) years of marketing experience, starting as Assistant Marketing Director and working her way up to Marketing Director through hard work, dedication, and industry experience. 
A proud graduate of East Caroline University with a Bachelor of Arts degree in Psychology, Pittman is currently enrolled in Queens University of Charlotte-McColl School of Business to obtain her Master's of Business Administration (MBA) degree, and plans to obtain a Graduate Certificate from East Carolina University in Hospitality Management.  Outside of work Pittman enjoys spending time with her family (especially her son!), going to the beach, shopping, and eating.
Chip Hutchinson joins the Rocky Mount Event Center team as the Sports & Sponsorship Manager, where he is responsible for selling travel sports tournaments (such as basketball, volleyball, cheer/dance, and more) and for selling sponsorship packages. Previously, he served as the Director of Corporate Sales for the Durham Bulls Baseball Club, a Division of Capitol Broadcasting. He was responsible for sponsorship and business development as well as the creation of a special events division for the ballpark. After his time with the Durham Bulls, Hutchinson started his own sports marketing consulting company, Insider Sports Marketing, which he had in operation for over eleven (11) years.  
After graduating from UNC-Chapel Hill and receiving a Master's degree in Sports Administration from East Carolina University, Hutchinson spent four (4) years in East Carolina University's Athletic Department as Assistant Marketing Director. Now, he brings over twenty (20) years of sports and event marketing and sales experience to the team. Outside of work, he enjoys spending time with family, attending his kids' sporting events, boating on the Pamlico River, and supporting both ECU and UNC sports teams!
Jacqueline Elder recently joined the Rocky Mount Event Center team as the Catering & Sales Manager, where she is responsible for all catering sales as well as corporate and social event bookings for the facility. Specializing in banquets and events for over eight (8) years with a very strong background in hospitality, Elder has worked since age 17 for some of the world's leading companies in hospitality and events in her career, such as the Walt Disney Company and Hilton Worldwide. Elder's passion for assisting clients with some of their most cherished moments shows in each and every event that she sells and coordinates. In 2011, she had the pleasure of coming to work in Rocky Mount, North Carolina where she led a team in catering and events at one of the cities most prominent hotels. She has enjoyed planning many of Rocky Mount's local and corporate company events along with many local social events as well. 
In Elder's free time, you can find her in the kitchen cooking a family-favorite meal or traveling to one of her favorite destinations.
Yvette Winstead Business Manager for the Rocky Mount Event Center, where she specializes in Human Resources and Financial Management. She's certified as a business consultant, a licensed notary signing agent and a professional tax preparer. She previously served as an Operations Manager, where she managed the day-to-day operation, recruitment, orientation and training, accounts payable and receiving, auditing, purchasing, oversaw temporary labor forces and managed a staff of 175. Throughout her 10-year tenure as manager, Winstead has built a reputation for planning and implementing business strategies with CEO's and Program Directors.
Winstead's educational background includes a BA Degree in Business Management from ECPI University while currently furthering her education to receive her MBA in Management. She's also is a member of the International Association of Professional Business Consultant, Better Business Bureau, and an active associate with Dun & Bradstreet. In her spare time, Winstead enjoys spending time with her family and traveling.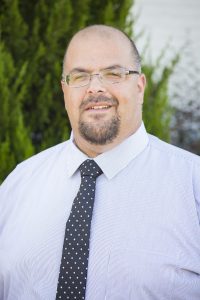 Brian Haddad is the Director of Operations of the Rocky Mount Event Center and a graduate of Central Michigan University with a Bachelor's degree is Sports Studies and Recreation. He has worked in many different roles in the Sports industry for over 20 years starting at the Dearborn YMCA, the Dearborn Recreation Department and most recently, Facility Manager at the HYPE Recreation Center -Western Wayne.  Coming from the Detroit area, Haddad is an avid Detroit sports fan, especially his Detroit Tigers.  He has in the past volunteered his time to coach children in basketball, soccer, and baseball.  He plays softball during the spring and summer months a couple days a week and also umpires during his off time.  If you see Haddad outside of the work, he usual is spending time with his family and dog, Babalu.
If you have any questions about open positions at Rocky Mount Event Center, you can easily get in touch to find out more information. Visit our careers page for available positions or contact our team to learn about potential upcoming opportunities. If you would like to book an event with Rocky Mount Event Center, contact our team today for a tour of the facility, pricing ,and availability.
  (252) 210-3432  |  285 NE Main St, Rocky Mount, NC 27801